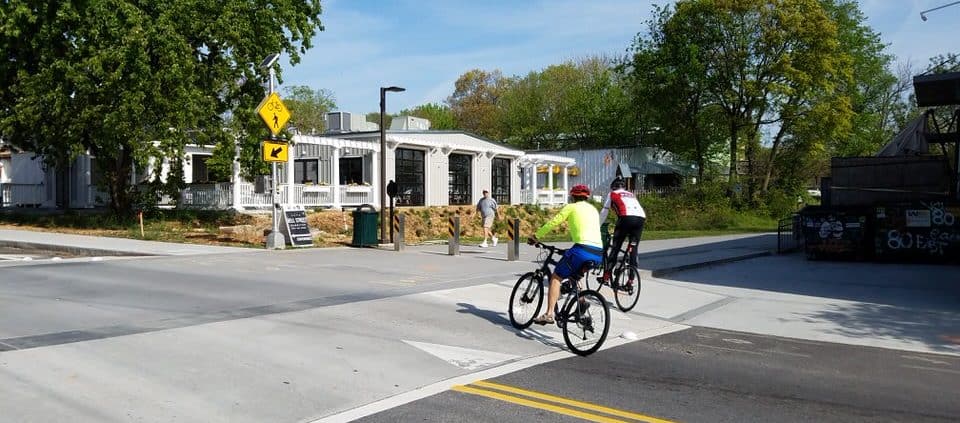 10 Best Atlanta Neighborhoods For Cycling
Atlanta home buyers often want to know if their potential new home is in a bike friendly Atlanta neighborhood. So let's go on a quick spin through the 10 best Atlanta neighborhoods for cycling. Most home buyers are seeking the best Atlanta neighborhoods for biking because they want to cycle to work or school. Others want to go on outings with their family and friends. Some are pretty serious. You know, the buff ones who cannot get on a bike without all the right (and tight) gear, including those funny shoes that only work on bikes. No matter your group, there's a bike friendly Atlanta neighborhood for you.
Here Are The Best Atlanta Neighborhoods For Cycling
1. Midtown
Bike Midtown and enjoy the epicenter of Atlanta culture plus the best park in town. Midtown wraps around two sides of Piedmont Park, just ideal for cycling. The neighborhood is home to glamorous high-rise condominiums and office towers, grand mansions old and new, and everything in between. The multi-use Beltline trail connects to neighborhoods north and south, while on-street bikeways provide easy flow east and west.
2. Virginia-Highland
Long known for its popular independent restaurants and trendy boutiques, Virginia-Highland has what cyclists want. Specifically, the neighborhood offers residents easy access to the Beltline and Piedmont Park. Plus it has destinations for kids of all ages. And from here residents can easily cycle to work in Midtown or Downtown Atlanta. Tip: Bike with the kids over to Yogli Mogli for awesome frozen yogurts.
3. Ansley Park
If you like a leisurely bike ride through broad boulevards filled with beautiful homes and manicured parks, cycling Ansley Park is not to be missed. It's truly one of the best Atlanta neighborhoods for cycling. The neighborhood offers easy access to the center of Atlanta's fine art scene anchored by the High Museum and Woodruff Arts Center, the Beltline, Piedmont Park and it's own private golf course.
4. Inman Park
Cycle around Inman Park and explore the finest collection of authentic Victorian mansions found in Atlanta. Plus some of the most successful new developments in the city, spurred on in large part by the development of the Beltline. Numerous restaurants and shops can be found at the nexus of the Beltline and Highland Avenue, and a short ride down the Beltline at the Krog Street Market – a re-purposed 19th century factory complex. If you're riding your bike in the area along Edgewood Ave., stop in at Cafe + Velo, they combine coffee, cycling, cuisine and community. And it's on our list of best Atlanta coffee shops.
5. Cabbagetown
Bike through the stunning tunnel of street art over to Cabbagetown. This tiny neighborhood has mostly shotgun homes built for workers at the Fulton Bag and Cotton Mill, now very cool lofts. Todays residents are a melting pot of artists and others, happily coexisting like they have a secret. Here it is, they live close to everything. They have the Krog Street Tunnel – famous as an ever-changing mural of graffiti.
6. Edgewood
Super easy Beltline access makes Edgewood ideal for cycling. It's a bike friendly Atlanta neighborhood where old homes are being renovated and flipped at a blazing pace and townhomes are being built anywhere they can fit. Residents covet their access to the Beltline which bisects the neighborhood. And their proximity to the adjacent Edgewood retail district which is home to Lowes, Kroger and much more.
7. Reynoldstown
The Atlanta Bicycle Coalition, the leading advocate for all things cycling, makes its home in Reynoldstown. Their website has tons of info and is a wonderful resource for those who like to bike in Atlanta.
8. Downtown
From Reynoldstown, continue your ride for about two miles and enjoy cycling in the midst of Downtown's high-rises and attractions. Ideally suited for a Sunday ride to avoid weekday traffic.
9. Candler Park
The historic Candler Park neighborhood is ideal for cycling. You can bike around the park itself and also over to Freedom Park which has trails leading to the Atlanta Beltline.
10. Grant Park
And finally, one of the very best Atlanta neighborhoods for cycling is Grant Park. It's a large historic neighborhood built around a bucolic 130 acre park that is home to Zoo Atlanta. The neighborhood features miles of broad curving streets, laid out by the Olmstead Brothers.
Streets in the park are now closed to traffic, making them ideal for leisurely cycling, and the occasional criterion. The Beltline forms a great arc that defines one side of the neighborhood. And, two bike shops call Grant Park their home. Plus several on-street bikeways provide connections the park, zoo, and downtown.
Atlanta neighborhoods for biking include dedicated lanes, paths, bike shops and clubs
These days Atlanta real is bicycle friendly. It's not Amsterdam, Copenhagen or even Seattle, but biking in Atlanta is improving fast.
According to the City of Atlanta's Annual Bicycle Report, Atlanta now has a total of 116 miles of bikeways including 46 miles of bike lanes, 42 miles of multi-use paths, and 16 miles of shared lane markings.
The most famous mulit-use path is the Beltline, a 22 mile loop of rail lines that are being converted for bicycle and pedestrian use. To date 11 miles of permanent and temporary hiking trails are open. That's a fair amount of choice for Atlantans riding to work or looking for a leisurely Sunday bike ride.
And every year Atlanta has more and more charity bike rides. One of the newest is VeloCity which raises money in support for Grady Hospital.
Ready to bike in Atlanta?
Now you have a good idea about some of the best Atlanta neighborhoods for cycling. Great cycling is one of the top 10 reasons to love Intown Atlanta living.
Someone in the family prefers walking? Explore the best walkable Atlanta neighborhoods. Learn more about all these wonderful neighborhoods with the Intown Atlanta Neighborhood Guide.
Questions? Reach out, and contact us, we are here to help.
https://www.bestatlantaproperties.com/wp-content/uploads/2018/04/Best-Atlanta-neighborhoods-for-cycling.jpg
540
960
Best Atlanta Properties
https://www.bestatlantaproperties.com/wp-content/uploads/2016/05/bap-logo-e1591341526858.png
Best Atlanta Properties
2019-06-13 07:40:12
2021-04-26 09:42:18
10 Best Atlanta Neighborhoods For Cycling