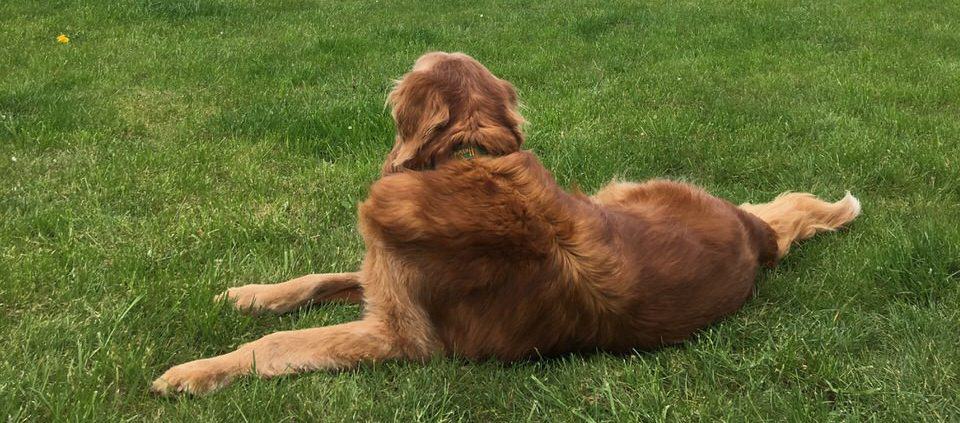 Best Dog-Friendly Atlanta Neighborhoods
We've had several home-buyers ask about the best dog-friendly Atlanta neighborhoods. So I decided to write a bit about it with help from our Golden Retriever Max.
Atlanta Has Plenty Of Dog-Friendly Neighborhoods
He arrived at the Atlanta Humane Society after he was found lost deep in the South Carolina woods. He says his hair was a mess.
He'd been out there in the woods for several weeks, had heartworm and was skin and bones and eaten up by fleas and ticks. He'd almost given up hope.
A kind soul found him in a ditch, took one look and decided to try and save him. These days he barely remembers the long ride to Atlanta in the back of an old pickup truck. (He still loves pick-ups.)
After being nursed back to health by the good folks at Atlanta Humane Society hospital, he was adopted by Jeff and Vladimir.
The good life in an old Virginia-Highland bungalow
He says this was like paradise. He loved the yard and doggie door so he could come and go as he pleased. And every day he'd enjoy a walk. From Virginia-Highland there are several good options in the area.
Sometimes down to the Piedmont Dog Park in Midtown. It's fine for an occasional early morning visit but later in the day there's not enough shade and it can be over-crowded. Max doesn't like the heat nor crowds.
He always preferred a short ride in the car over to Morningside Nature Preserve. There we'd walk along paths in the woods down to a stream and little beach area. He loved it.
Plenty of choice in the area when it comes to doggie daycare places
Though never a regular, occasionally he stayed at the well-liked doggie daycare in Midtown called Piedmont Bark. And in the area there are of course some excellent pet supply stores. For example, the very popular pet-boutique Highland Pet Supply with their DIY doggie wash.
Max enjoyed the neighborhood restaurant scene too
Especially the occasional french fry that fell from the sky while relaxing on the sidewalk outside the patio at George's in Virginia-Highland. Or at Joe's on Juniper in Midtown. You'll find dogs and the people they own dining together at many Intown Atlanta restaurants with sidewalk seating. Or sitting around at one of the best Atlanta coffee shops.
On hot Atlanta days, doggie water bowls are abundant along the Virginia-Highland, Mornignside and Midtown sidewalks. It seems nearly every neighborhood business wants you to know they care about your dog almost as much as you do. And what's cool is that most actually do.
So if you want to live in a dog-friendly Atlanta neighborhood take Max's advice and explore these three: Virginia-Highland, Morningside and Midtown.
Dog-friendly Atlanta neighborhoods outside of Max's marked territory
Let's take a look at four more good ones: Reynoldstown, Oakhurst, Grant Park and Old Forth Ward.
Reynoldstown
Reynoldstown's best doggie feature is ParkGrounds. There you can enjoy excellent coffee and a meal while your dog plays. They have WiFi so you can even work a bit while your dog enjoys palling around with other pups in their dog park. You just need to be sure to supervise your dog while you're doing your thing. More about Reynoldstown.
Oakhurst
The Oakhurst Dog Park is arguably the best off-leash dog park in Atlanta. It's a lovely spacious and shaded park with plenty of seating. You can easily observe your dog no matter where they roam. And Oakhurst has Taj Ma-hound where they bake "drool-worthy treats" including their award winning PeaMutt Butter treat for your pup. Who doesn't want a custom birthday cake for their bestie? Now that's just awesome. Explore Oakhurst.
Grant Park
The neighborhood's namesake park doesn't actually have a designated dog park section. That said, the meandering shaded park is lovely and spacious. Ideal for dog owners who enjoy walking with their dog on-leash along the many paths through this famous Atlanta park. And the neighborhood has a popular store called Intown Healthy Hound. It's a local shop offering pet food and supplies plus a dog wash. Read about Grant Park.
Old Fourth Ward
O4W, as it's known, has one of the newest dog parks in Atlanta, Renaissance Park Dog Park. Like the Piedmont Park dog park, here there are both large and small dog areas. There are also benches, water fountains and shade trees making it an enjoyable experience for both dog and owner. Plus the fantastic views of amazing Atlanta's skyline don't hurt. Besides being convenient to those living in O4W, it's also easily accessible from Downtown and Midtown Atlanta. Learn more about Old Fourth Ward.
Further Afield
Max especially enjoyed hiking Sweetwater Creek. Located a short drive west of Atlanta, Sweetwater Creek State Park is a great place to hike with your dog. You can take either a 2 or 5 mile trail along the creek and through the woods.
Atlanta Trails recommends these 7 Georgia state parks to explore with your dog. Taking your dog further afield for a more serious hike is easy here too. A great resource is Georgia's Best Dog Friendly Trails.
One more great benefit for any dog living in the Intown Atlanta area is ice creme. Yup, King of Pups is ice creme just for your pup. You can find their positive vibes and popsicle stands all around the neighborhoods we've discussed here.
Other tips? Neighborhoods to add? Or just need advice on the best dog-friendly Atlanta neighborhoods for you? Just contact us, we're here to help.
https://www.bestatlantaproperties.com/wp-content/uploads/2018/04/Max-1.jpg
524
960
Best Atlanta Properties
https://www.bestatlantaproperties.com/wp-content/uploads/2016/05/bap-logo-e1591341526858.png
Best Atlanta Properties
2019-03-23 08:17:36
2021-04-26 09:41:45
Best Dog-Friendly Atlanta Neighborhoods