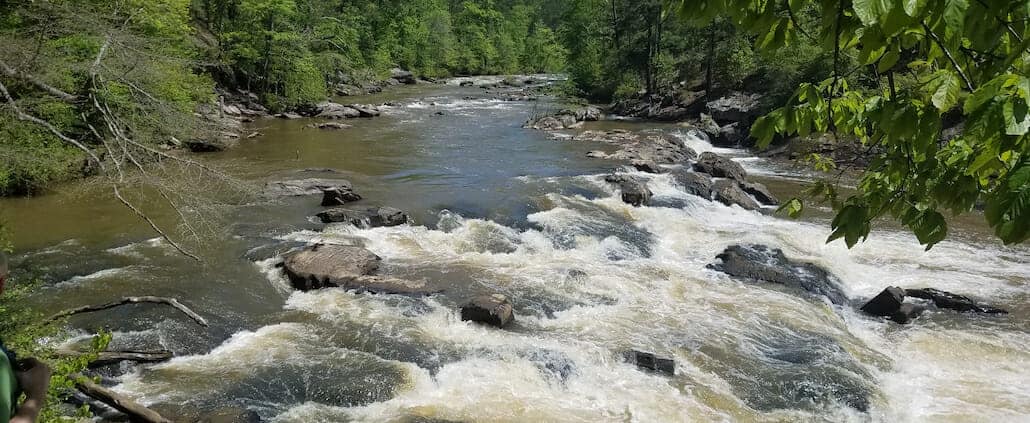 Best Atlanta Properties, LLC
Best Nature Escapes Near Atlanta
Friends, if your feeling like you need to get outside (and right about now who isn't), here for your consideration are 5 of the best nature escapes near Atlanta.
Some are close by enough to enjoy on your lunch break or after work and others are best enjoyed when you have more time.
Most can be accessed at some level currently keeping responsible social distancing in mind. That said, check the respective websites before venturing out for your Atlanta nature escape.
Here are 5 of the best nature escapes near Atlanta
If you're ready to get outside and walk, hike, bike or run, these Atlanta nature escapes are for you!
Oakland Cemetery
First up is Oakland Cemetery. At first glance it might be considered an unusual pick to be on our list of the best nature escapes near Atlanta.
But as you'll see, it's much more than the final resting place for Margaret Mitchell the Pulitzer Prize-winning author of Gone With the Wind.
Because here you'll find 48 acres of glorious gardens including massive oaks and old magnolia trees. Plus sculpture, art, architecture and of course plenty of Atlanta history.
Nestled between Grant Park and Cabbagetown less than a mile west of Downtown Atlanta, Oakland Cemetery is quiet and beautiful. And, it's actually Atlanta's second largest green space after Piedmont Park.
Oakland Cemetery is a wonderful place to temporarily escape all the stress of the day. Bring a book and sit and read on the hillside lawn near Boulevard.
Or meander around the pathways and gardens. For the more energetic, here you can even have a vigorous run. And dogs on leashes are allowed.
Tip: Best Walkable Atlanta Neighborhoods
While at the moment walking tours and events at Oakland Cemetery are cancelled to help prevent the spread of COVID-19, as a city park, the cemetery remains open. To learn more about this wonderful place and verify opening hours, visit their website.
Sweetwater Creek
Next up is Sweetwater Creek State Park. Located in Lithia Springs, GA about a 30 minute drive west from Atlanta, here you can escape to over 2,500 acres of pure natural bliss.
Buy the $5 daily park pass or an annual Georgia State Park pass for $50. Your options here include hiking, mountain biking, camping, boating and fishing.
There are 15 miles of trails to hike. If you just want an interesting short hike, follow the red trail through the woods and along the river. Then you'll come across the ruins of the New Manchester Manufacturing Company, a cotton mill burned during the Civil War. Continue on up the rocky bluffs for a view of the beautiful rapids below. This hike is a mile each way.
For a more strenuous hike we like the 5.2 mile white trail loop. And, there are plenty of other trails winding through the vast fields and forest of the park. You can bring your dog with a leash.
Mountain bikers will appreciate the three trails, the most popular is called "Staff Vehicles Only".
Tip: Best Atlanta Neighborhoods For Cycling
Before venturing out we recommend you check their website to see that the park is open. The main trails can get crowded on pretty days.
Sope Creek
Sope Creek Park is a part of the wonderful Chattahoochee River National Recreation Area. The park is normally less crowded than many others in the area, especially during the week. It offers a peaceful, local escape. And dogs are permitted on leash.
Here you'll find over three miles of hiking, mountain biking and running trails. Start by hiking the scenic loop around the ruins of a stone Civil War-era paper mill that sits along a rocky creek. Then walk over to the serene Sibley Pond for some tranquility, wildflowers and views. Review the National Park Service trail map of Sope Creek.
Lullwater Preserve
Nestled within the Emory University campus, Lullwater Preserve is a 154 acre oasis of scenic walking and running trail loops. Walk or jog the trail along the lake then cross the bridge to explore ruins of the 1920s powerhouse. And bring your favorite four legged friend as dogs are allowed on leash.
Tip: Best Dog-Friendly Atlanta Neighborhoods
To make it easy, park at Hahn Woods and take the Yerkes Trail over to Lullwater. A good resource for the walking and running trails is Atlanta Trails.
Fall Brach Falls
Our final nature escape near Atlanta is actually further afield. So, because finding a waterfall while hiking is sublime, we recommend a visit to Falls Branch Falls.
You'll find it up in Cherry Log, in North Georgia's Blue Ridge mountains. It's an hour and forty-five minute drive but well worth it.
The falls are a series of cascades that lead to a single major drop with the water plunging into a deep pool. These falls, along the Benton MacKaye Trail west of Aska Road are a short but somewhat challenging walk. And you can have your dog off-leash on this hike.
To find it, take Aska Road south 8 miles and turn right on Stanley Creek Road. Go 3.1 miles to the "parking lot" on the right just past the bridge over Falls Branch. Here's more about the hike.
Consider staying the weekend as there's plenty to see and do. For example, explore the nearby towns of Blue Ridge or Ellijay. There you'll find fantastic restaurants and excellent shopping. Plus many more fun family activities.
Tip: Stay at Lofty Vista, a log cabin with lovely mountain views.
And finally, we continue to help our clients with their real estate needs during this challenging time. See our Atlanta Real Estate Coronavirus Update.
Thanks for reading, stay well!
https://www.bestatlantaproperties.com/wp-content/uploads/2020/05/Best-Nature-Escapres-Near-Atlanta-GA-Sweetwater-Creek-rapids.jpg
579
1030
Best Atlanta Properties
https://www.bestatlantaproperties.com/wp-content/uploads/2016/05/bap-logo-e1591341526858.png
Best Atlanta Properties
2020-09-06 02:00:34
2021-04-26 09:33:24
Best Nature Escapes Near Atlanta