Tap A Neighborhood And See Information And Listings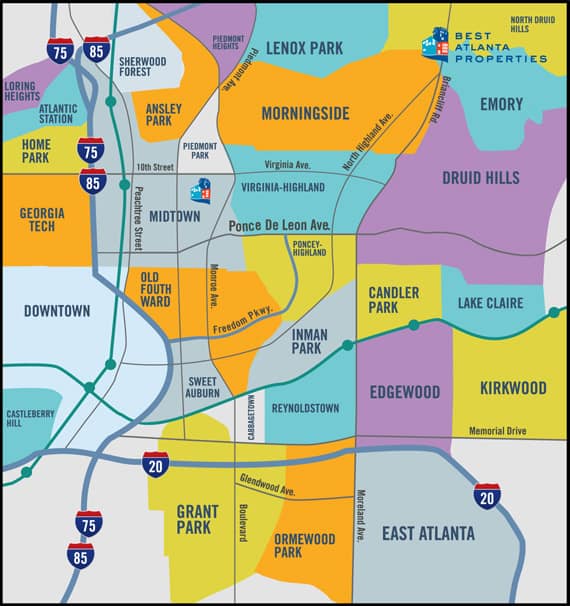 Want To Search Atlanta Real Estate By Neighborhood Map?
This Intown Atlanta Neighborhood Guide is the best way to do it! This is a quick and easy way for both newcomers and locals to visualize what it's like to live in various Intown Atlanta neighborhoods. Plus see the latest real estate listings in each neighborhood.
For Newcomers
If you're new to Atlanta and searching for a home you'll want to learn where each Intown Atlanta neighborhood is located. And of course see the listings and open houses in each neighborhood. This neighborhood guide makes that super easy. You can quickly visualize where each are is relative to the other neighborhoods. Each featured neighborhood gives you a brief description of what it's like living in the area. Plus the latest real estate listings and open houses. Updated every 10 minutes! More on relocating to Atlanta.
For Locals
If you're a long-time Atlanta resident and want a resource that quickly shows you the latest listings and open houses in your favorite neighborhood, this is for you! So easy, gotta love it.
Prefer Searching Atlanta Real Estate By Neighborhood List?
More Ways To Search Atlanta Listings
We also offer several other methods to search Atlanta real estate.
By Atlanta Zip Code
Use the search by zip code map.
By Lifestyle
Dog owner? Check out the dog-friendly Atlanta nieghborhoods.
Walker? Learn about the best walkable Atlanta neighborhoods.
Cyclist? Here are the best Atlanta neighborhoods for cycling.
With Our Atlanta Home Search
Browse all Atlanta real estate listings with our advanced Atlanta Home Search.
Thanks for reading. We hope you found the Intown Atlanta Neighborhood Guide helpful. Please contact us when you're ready to get started!